The Society works to protect and improve Stourport and to promote interest in its history as a Georgian New Town and Canal Port, industrial centre and inland resort. The society is concerned to safeguard the greenbelt and landscape of the Severn Valley. The Society is a non political organisation, registered with the Civic Society Initiative and is a member of the West Midlands Amenity Societies Association.
All events start at 7-30pm at the Elizabeth Mills Centre (formerly the Social Day Centre) in New Street, Stourport.
Everybody is welcome – £3.00.
The Stourport Civic Award was set up in 1995 with the aim to identify and recognise those projects which have made a contribution to the environmental quality of Stourport. The first winner was for the rebuilding of Engine Lane bridge by British Waterways.
It is run biennially by Stourport Civic Society.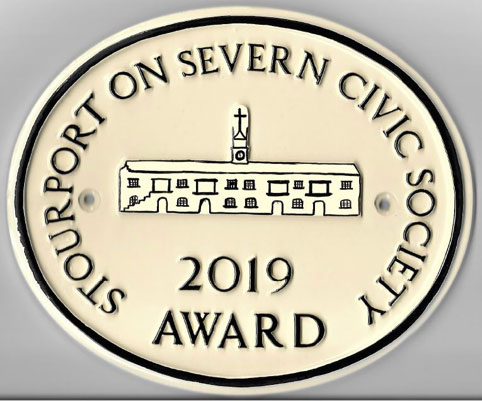 Winners
2019 – The Wharf 
2017 – Burlish Park Primary School and Worleys at the Swan
2015 – Working Boat Bramble and the Wyre Forest Crematorium
2012 –  Anglo House & Stourport Primary School
2010 – Moorhall Nature Reserve and The Windlass Café and Heritage Rooms
2008 – British Waterways – Stourport Canal Basins Restoration
2006 – Church House and the Stourport Wesley Methodist Church
2004 – Areley Mews
2002 – The Black Star Public House
2000 – 1 Mill Road
1997 – No Winner – The award was not presented in 1997 as none of the entries were felt to have reached a suitable standard. A Commendation was presented to Nestle Ltd for the extension to the Vinegar works in Cheapside.
1995 – British Waterways for Engine Bridge.
Unlocking Stourport's Past
This was a two and a half year project managed by Stourport Civic Society and funded by The Heritage Lottery Fund, Nationwide, The Countryside Agency and the Local Heritage Initiative. The Civic Society were acting in partnership with Worcestershire Historic Environment and Archaeology Service.
"Forgotten Stourport" was made the theme of our Project which sought to help update the historic record of the town by documenting and recording non-listed buildings and structures in the hope that this would give them some form of protection.
You can download the leaflets produced by the project by clicking on them below, or you can visit the Unlocking Stourport's Past website created by the Civic Society for a fascinating insight in to Stourport-on-Severn's history.
Unlocking Stourport's Past –High Street
Unlocking York Street's Past
Unlocking Stourport's Walls
Unlocking Stourport's Canal Basins
Publications
There are a number of  fascinating publications about the unique history of Stourport-on-Severn.
Stourport's Pubs
A search for their history by John C Cook, Stourport Civic Society.
Stourport grew from the small hamlet of Lower Mitton. The catalyst for this growth was the Staffordshire and Worcestershire Canal. Completed in 1771, this canal, with its basins and wharves provided many job opportunities. Those who filled these jobs were well catered for as regards drinking establishments. Some of these places are still in business today. Many more have vanished, but not necessarily without trace. This book sets out to discover where and when these "Pubs" existed, and who was responsible for their being.  This is an attempt at naming every Pub, Tavern, Inn, Ale House, and Beer House, that ever served a pint within the boundaries of the town. During that period of more than two and a half centuries, over nine hundred men and women have held licences for those places.
£7.50 per copy available from Stourport Civic Society – Order
Searching for Monica Baldwin
by Pauline Annis
Born in Stourport, debutante, nun for 28 years, best-selling author, died in obscurity in 1975.
£5 per copy, available from: Bentley's, High Street and online
Images of England… Stourport-on-Severn
This local history book contains a hitherto unpublished collection of old photographs of the town and was published in Summer 2001. Collection of the photos and all the detailed research was done by our late President, Anna Carter.
It contains a fascinating collection of over 200 old photographs (many not published before) portraying Stourport-on-Severn, 'the canal town par excellence.' The collection records the basins and river and includes scenes dating well back into the nineteenth century, illustrating Stourport's maritime history as an inland port.
Modestly priced at £2.00 the booklet is available from Stourport Library, Oxfam, High Street, the Lock Shop and other outlets and by post in the UK (price £2.37, includes P&P) as well as online. 


DVD – Stourport on Severn – A Georgian Canal Town
A look at the town's past and present. Produced by Albert Mogg for Stourport Civic Society.
Introduced by Dr. Richard Taylor, M.P., this DVD makes use of both archive photographs and modern filmed footage to give an overview of Stourport's past and present. President of the Civic Society, Geoff Neal, gives a guided walk around the town.
As well as looking at the origins of Stourport's existence and James Brindley's unique canal and lock systems, the DVD traces the development of the main streets in the town with its shops, pubs and caravan sites looking at the present and potential future. Local people share some of their memories of the canal town. Residents and visitors will find much of interest and perhaps find out something they did not know about the town and its development.
It can be ordered from Albert Mogg on 01299 879591, or Pauline Annis, at 8 The Ridgeway, Stourport on Severn, Worcs, DY13 8XT (postage extra). 
The DVD is available at £7.99 (UK P&P £1.50).
Other Stourport DVD's  by  Albert Mogg
3 Kings Parade 2006 – 2007 (10 mins and 24 mins)
Lovely film of various local groups taking part a parade that culminates in the switching on of the Town's Xmas lights after a carol service. Also features the good work by the Stourport Rotary club.  £4.99
Church House (9 mins)  
A look at St. Bartholomew's Church, the Outstoat, and the award winning newly renovated Church House. It was officially opened in Sept. 2006 by Dr. Richard Taylor MP. Bill Wood commentates. £4.99
The Flow Festival (10 mins)
A celebration of the completion of the Basin Restoration project. It was attended by lots of locals from 11th to 13th July 2008 and featured a professional group called 'Spiral' £4.99
Stourport Bandstand (10 mins)
The official opening of the 6 th. Bandstand on 31/8/03 by Chief Constable Paul West. Featuring West Mercia police band ,local people and dignitaries. Funded by local businesses.  £4.99
Stourport Clock  (15 Mins)
A look inside and outside of one of the towns most important landmarks. How old is it? Who looks after it? Features Cllr. David Little. £4.99
Stourport on Cine in the 60's (27 mins)
Is a wonderful selection of 8mm. Cine film. Includes Street and river carnivals with the old gas works etc. in the background. Noel Gordon's visit to Stourport with her programme 'Lunch Box' on the side of the river. Old shops and buildings. Floods, Ice and snow. Original material by Tom Head, Bob Hughes and Joe Barnes. £4.99
Stourport Drill Hall (9 mins)
A last look inside the Drill Hall in Lion Hill before it was partly demolished to build new flats. Apart from the headquarters of the TA. It was the local venue for a good dance evening.  £4.99
Stourport at Work Rest and Play (48 mins)
This is exact copy of an 8mm Cine film made by 'Rick' Tariq in 1974. It has English and French dialogue because it was made so that the people in Villeneuve, Who we are twinned with, could have an idea what Stourport looked like. A wonderful archive record for the Town. The sound, which was dubbed after filming, has deteriated slightly over time.  £4.99
The Way we were in Stourport 1977 (51 mins)
Another wonderful film in 8mm made by Ahmad and Megan Tariq and Brenda and David Guyatt. It features the Silver Jubilee, local people , shops, visitors, street parties and the carnival.  £4.99
Tontine 2 (11 mins)
In November 2001 Albert was allowed inside for a last look before it was boarded up. This is a record of that day. And in November 2005, an archaeological dig was commissioned on the front gardens and adjacent area.  See these unique events.  £4.99
A Compilation of 6 Stourport Films (63 mins)
6 of some of the previous DVD's. Includes.   The Town Clock – Wesley Church Gardens – The Church House, Areley Kings. – The Tontine – The Drill Hall and The 3 Kings Parade.   £7.99
Walsall And Leather (42 mins)
Another major ' special interest' DVD was made for the Leather Museum in Walsall.  It proved to be very popular because no one had recorded the town's major industry like this before. It shows apprentices being taught how to make saddles and other leather goods, at college and at Cliff Barnsby, the Queens Saddle makers. A look around the Leather Museum, Walsall Football Club and culminates with the famous horse parade around the Town. £7.99
All these DVD's are also available from Stourport Forward